14 Day Complete Ethiopian Adventure
Booking Dates
11/15/2019 through 12/15/2020
Travel Dates
01/01/2012 through 12/31/2020
Provider
Kensington Tours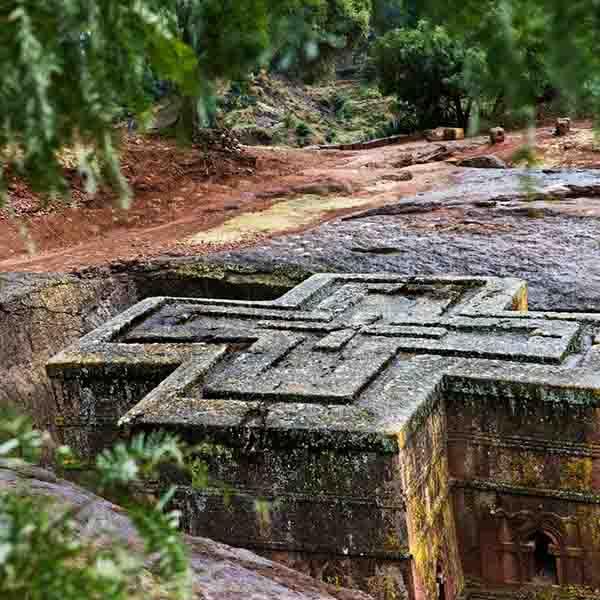 14 Day Complete Ethiopian Adventure
Ethiopia is just about the only country in Africa never to have been colonised, and its people claim the longest continuous monarchy in history, 3000 years of kings. The country is also unusual for its rich Orthodox Christian heritage, which the Ethiopians maintained even when all its neighbours embraced Islam in the 7th century. The Ethiopia Adventure tour is an in-depth exploration of the unique archaeological treasures of the country. Start in Addis Ababa the capital city, known for the bustling Mercado marketplace where thousands of stalls sell a profusion of goods from the entire country. Fly to Bahir Dar where you tour the island monasteries of Lake Tana, and drive to Gondor to see the royal castles of ancient dynasties. Then fly to Lalibela, a UNESCO world heritage site, to see the famous underground carved churches. These amazing cathedrals were carved from soft lava rock, resulting in a complete building composed of a single contiguous rock. Fly to Axum with its gigantic carved stellar and the holy church that legend claims holds the Ark of the Covenant. You then continue your adventure and visit the people of the South Omo Valley. Over twenty tribes inhabit the area and we visit villages and local markets in the hope of fostering numerous authentic cultural experiences. The most famous of the tribs are the Mursi, renowned for their clay lip plates, but there are many other vivid encounters with some fascinating tribes. Whilst the emphasis of this part of the trip is on the people, we also visit the Rift Valley lakes with their beautiful scenery and fertile surroundings, and we are likely to see a wide range of animals in Awassa and Mago Parks.
Kensington Tours offers local support in each region you visit, another reason we deliver unbeatable value. Enjoy a personalized vacation that best suits your needs, developed by one of our experienced destination experts. Relax during your trip with our 24/7 support and expert local guidance.
Itinerary
Destination
Pricing
Terms and Conditions
| Day | Description | View All |
| --- | --- | --- |
| Day 1 | Addis Ababa | Details |
| Day 2 | Addis Ababa To Bahir Dar | Details |
| Day 3 | Bahir Dar To Gondar | Details |
| Day 4 | Gondar To Lalibela | Details |
| Day 5 | Lalibela | Details |
| Day 6 | Lalibela To Axum | Details |
| Day 7 | Axum To Addis Ababa To Lake Langano | Details |
| Day 8 | Lake Langano To Arba Minch | Details |
| Day 9 | Arba Minch To Jinka | Details |
| Day 10 | Jinka To Turmi | Details |
| Day 11 | Turmi | Details |
| Day 12 | Turmi To Yabelo | Details |
| Day 13 | Yabelo To Awassa | Details |
| Day 14 | Awassa To Addis Ababa | Details |